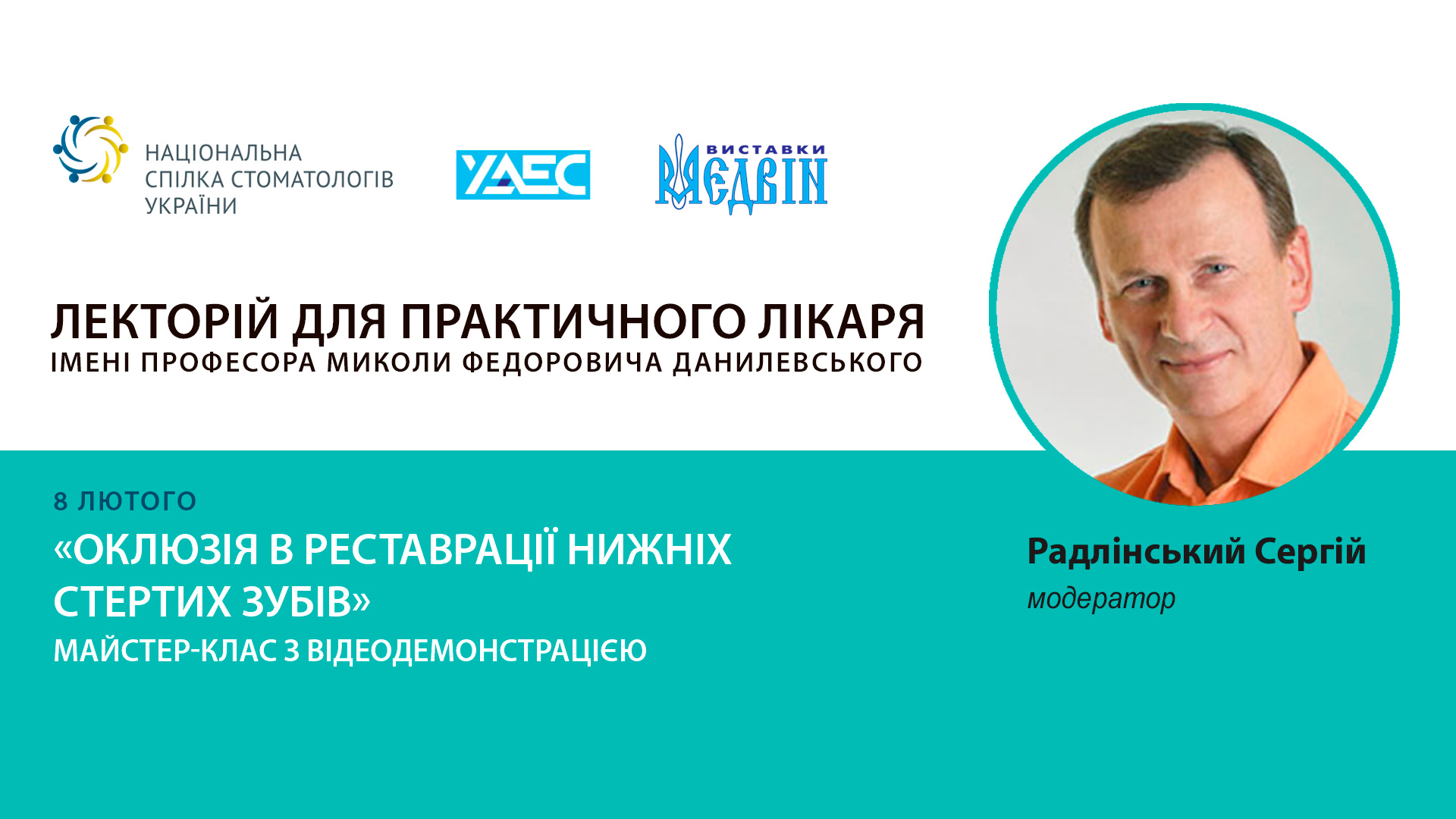 OCCLUSION IN THE RESTORATION OF LOWER MISSED TEETH
Serhiy RADLINSKY, educational center "Apollonia"
February 8, 2023, Kyiv (Berezivka), master class with video demonstration.
Program:
- principles of 2-stage systemic restoration of worn teeth,
- the sequence of restoration of the lower erased teeth, as the 2nd stage,
- control over occlusion at the stages of systemic recovery,
- care, monitoring and longevity of systematically restored abraded teeth,
- video demonstration of restoration on a model of lower lateral teeth.
Equipment for the master class from the Medvin exhibition company: conference hall, large table, large screen, information distribution, registration, coffee breaks.
Equipment for the master class from the "Apollonia" educational center: a Full-HD multimedia projector with an aspect ratio of 16:9, a portable dental unit with a button turbine handpiece with illumination and water cooling, with a micromotor with a rotation speed of about 3000 rpm, a gun " water-air" and a saliva extractor, fluorescent lighting, head phantom, sets of necessary tools, drills, materials and tools, rubber dam, ultraviolet lamp, polymerization lamp, dental camera, computer, presenter with a laser pointer, Full-HD video camera on a tripod, lapel radio microphone, sound amplification equipment with the possibility of connecting a radio microphone and a computer.
The presentation from the computer and the video camera image will be in Full-HD resolution and 16:9 aspect ratio.
Each participant will receive a CD with a master class on the restoration of lower worn teeth and a certificate.
Hourly schedule of the master class in 3 stages × 2 hours and with 2 breaks:
09.00 - 10.00 - registration
10.00 - 12.00 - master class
12.00 - 12.30 - break
12.30 - 2.30 pm - master class
14.30 - 15.00 - break
15.00 - 17.00 - master class, answers to questions/discussion
17.00 - 17.30 - informal communication